Dave Shaw Trio
Overview:
Jafla Graphics was asked to redesign Dave Shaw Trio's music web site. The direction for the new web site was to echo the feeling of the old 'Blue Note Records' graphic style. The final design was derived from a number of initial concepts from the series presented.

Components:
Web Design, Information Design, Logo Design

Collateral: Print Production; Poster; DVD Tray Card & Booklet; Stickers, Email Promotional Invite.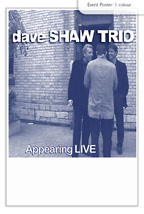 Concept Gallery:
Click image below to view initial concepts gallery, then have a visit and launch the current site